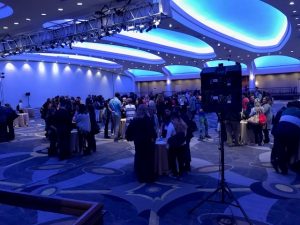 The American Translators Association conference, once again, left me energized for another year! 1743 people gathered to talk about translation and interpreting. Can we do it again? Oh, yes. ATA59 is in New Orleans. I will be there. Why? Keep reading.
Before the conference
I met with industry stakeholders and a client. These interactions help me understand what we need to do in more depth. When we don't do a good job, we put the mission of the people we work with at risk. That is why at Gaucha Translations, these things are standard:
Every translation is the work of a team of a translator and a bilingual reviewer.
When working with clients who will put the text online, I always encourage them to hire me for an additional hourly rate to go over the text on the screen before it goes live. In that last check, we find details that slipped through the cracks. In the Portland ACES editing boot camp, I remember top editors saying they found details to fix after eight reviews!
Consulting with the client when there are ambiguities.
Some sessions I attended
The civil law system in Latin America as compared to the civil law system in the United States.
Guillermo Cabanellas spoke without a PowerPoint, and my notes will be incredibly helpful as I think about these issues in the future. A lot of what he said reminded me of what I had studied in secretarial training in Argentina.
Translating and interpreting for farmworkers in the United States.
Michelle Marie Pinzl presented this session in English, and it provided context for how to understand our target audience. She had done field work and research about the situation of Spanish-speaking of agricultural workers in the US, and a lot of the material we translate for hospitals into Spanish reaches this target audience. She has agreed to let me attach her PowerPoint to my blog post. I will write another post about my thoughts on this issue in greater depth as well.  This is her presentation, shared with her permission: Farmers and Migrant Workers Distributed
Spanish copy editing.
María Ester Capurro gave an outline for copy editing in Spanish. She went through a series of stages: grammar, spellings and typographical issues, coherence and consistency, and making sure the terminology is appropriate. She then led us through a discussion of common mistakes. Discussing these issues with other colleagues always improves my work.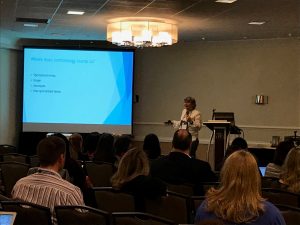 My presentation: Medical terminology research using parallel texts with Spanish examples
As I we went through the presentation, participants commented that the parallel texts helped them consider phrases they would not have thought of. The examples I put on the screen generated good discussion. At one point, they asked if the text in one of the pictures was in Portuguese! I said it was intended to be Spanish. My presentation can be found in this post.
Networking
At ATA, networking happens in the restrooms, in the hallways, at breakfast, on the sidewalks. You just can't get away from it. The following are examples of people I met.
A client I have worked with for years. We sat together at the Medical Division dinner. Now that we connected face to face, we have a more solid relationship.
The chair of a committee I had to step down from due to pressing family commitments. Now we will get back to working together, and I have some specific ideas on how to support the group.
A client I used to work with. We connected by phone after the conference, because it didn't work out during the conference. We talked about why things slowed down for a bit, and we are good to go again.
A translator who works at a very interesting office in DC. I picked up her card at a networking event, and said I had time to meet her on Monday. We had lunch and had a fun conversation about how to discuss projects with clients.
A newbie who had a question. An ATA past president was sitting at the same breakfast table, and gave us a way to solve the problem. We are working it out. This newbie may have helped make the ATA conference better for everyone! It all started at the Saturday Newbies breakfast table…
My newbie, Laura Cuello. She is from Argentina, where I grew up. She is from Córdoba, where I spent my summers, so we had fun talking in cordobés. She fit right in, and I helped her connect with some cool Argentines. Now, as she says, we are buddies!
Advocacy
ATA did advocacy through its members for the first time. 45 members went to the Capitol on Wednesday and visited 68 offices. Some others probably went to the Capitol at other times as well, as I did, since I make a habit of doing so when I visit DC.
ATA submitted three important legislative priorities, which are posted on the Advocacy Day page:
Inaccuracies in Prevailing Wages Rate Determinations for Translators and Interpreters
Machine Translation vs. Human Translation
Language Services Procurement: The Need for the Best Value Approach
ATA members who didn't make it to the Hill can still take these priorities to their Senators and Representatives in their home offices.
There is so much to the conference. Sessions. Networking. Learning from each other. Even connecting with clients. This year, advocacy. As they say at the Hillsboro Chamber, people work with people they know, like and trust. They get to know you by seeing you more than once. See y 'all at ATA59 in New Orleans!