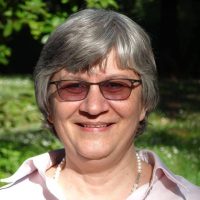 Helen Eby, owner of Gaucha Translations, is an ATA-certified translator (Spanish<>English) and a certified DSHS Translator (English > Spanish) by the Washington State Department of Social and Health Services. She is also a Spanish state-certified (Oregon) court interpreter and a medical interpreter certified by the Certification Commission for Healthcare Interpreters (CCHI) as well as the Oregon Health Authority. Helen Eby has been working in translation and interpreting since 1984. She has been participating actively in the American Translators Association in different roles for quite a few years, helping with the Spanish Division, the Business Practices Education Committee, and the Interpreting Division, of which she is the current Administrator.
One of Helen's major interests is guiding translators and interpreters who are entering the profession. This led her to provide OHA-approved interpreting training since 2014, when there were approximately 40 interpreters on the OHA registry. Though in the beginning her training was language neutral, she has always focused on checking the accuracy of the interpreting that students were doing in Spanish, her language. Therefore, she often preferred Spanish-specific courses and she adjusted the materials to the questions and the needs of the students.
Her background as an English and Spanish teacher also led to her involvement with ¡Al rescate del español!, a layman's guide to good Spanish writing skills, where she tested the early drafts of her book on Spanish writing.
Helen is a member of the American Translators Association, the International Medical Interpreters Association, and the National Association of Judiciary Interpreters and Translators among others. She served as president of the Oregon Society of Translators and Interpreters from January 2014 to September 2016.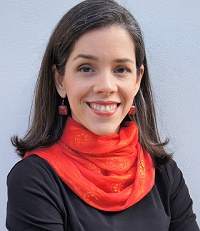 Daniela Guanipa is an ATA-certified translator (English > Spanish), editor, creative writer, interpreter and trainer who specializes in life sciences, marketing and legal matters. She has been a Spanish language professional for over 20 years.
Since she completed her bachelor's degree in International Studies in Venezuela, her native country, she has been dedicated to the art of communicating effectively in English, Spanish and Portuguese.
In 2005 she became the first English into Spanish ATA-certified translator in the State of Indiana. That year she was also certified as English/Spanish Court Interpreter by the State of Indiana and became a trainer in the sight translation mode of interpreting for the Indiana Certification Program. She has also taught Spanish to a broad spectrum of individuals starting at a variety of levels.
As founder and owner of Glossa Language Consulting, Inc., Daniela provides high-quality translation and interpreting services. She continues to work as a translator and as a community and conference interpreter in local, national and international level settings.
Daniela is very active in the translation and interpreting community and has served on the Board of her local ATA Chapter, the Association of Translators and Interpreters of Florida (ATIF), as Secretary and as Vice-president; and she has been a volunteer for the ATA Spanish Language Division as a member of the Professional Development Committee and as a reviewer of its quarterly newsletter, Intercambios.
Helen and Daniela have been working together for years. They are both founding members of the newly created Spanish Editors Association, the first and only association created in the United States to address the needs of editors working for the US-Spanish market. In addition, they are founding members and contributors of The Savvy Newcomer.
Other Interpreting Instructors:
Please note that interpreting trainings organized by Gaucha Translations are on hold until further notice.
Felicity Ratway holds a Master's degree in Interpreting and Translation Studies and has been working as an interpreter in Oregon since 2015. She is a Certified Medical Interpreter through NBCMI and is listed as a Certified Spanish Interpreter on the Oregon Health Care Interpreter Registry. In addition to her work as an interpreter, Felicity has experience teaching interpreters, drafting language access policies and procedures and creating training for medical staff working with interpreters. Felicity is a member of the Oregon Council on Health Care Interpreters (OCHCI) and Oregon Interpreters in Action.
Patricia (Patti) Anda became a Spanish Oregon Certified Court Interpreter in 2009 (passing score required: 70 in all sections) and obtained the Master Level Oregon Certified Interpreter status in 2012 (passing score required: 80 in all sections). She works as an interpreter for the courts in Oregon and for the Executive Office of Immigration Review. She was the Certification and Training Coordinator for the Oregon Judicial Department from 2012 to 2013. In this assignment, she provided resources for people interested in becoming certified court interpreters and in organizing continuous education trainings for existing court interpreters. Patti is also certified as a Healthcare Interpreter by the Oregon Health Authority. She has over 20 years of experience with multinational corporations and has held positions in the U.S., Mexico and Asia.