Gaucha Translations
Helen Eby, the owner of Gaucha Translations, has provided high-quality Spanish translation and interpreting services for over forty years. Her most common work is in government, law, medicine, and education. She is certified in translation by the ATA and in interpreting by the CCHI, the NBCMI, the Oregon Court, and the Washington state court.
Gaucha Translations never submits a translation that has not been reviewed, and Helen personally translates or reviews each one. Because Helen is personally involved in every project, asks relevant questions about every assignment she takes, and always has a highly qualified reviewer, her work virtually never needs to be redone. She gets it done right the first time, and clients return because her work is clear and accurate.
As a lifelong teacher, Helen is passionate about passing along her skills to the next generation of Spanish translators and interpreters. Her writing, translation, and interpreting students are interested and involved, and she loves watching them go on and make a difference after they finish her class.
HIPAA-level compliance for remote work
Gaucha Translations uses GoToMeeting and GoToTraining for teleconference meetings. This GoToMeeting page details HIPAA compliance.
Gaucha Translations uses ShareFile for sharing documents with clients. This ShareFile page details HIPAA compliance.
Favorite COVID-19 resources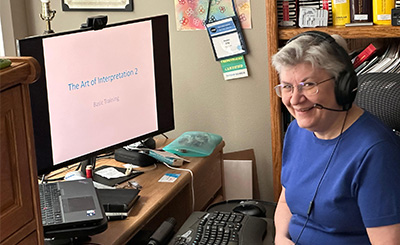 Certified Spanish Translator and Interpreter
Spanish translation and interpreting services are provided with up-to-date best practices per ASTM standards. To order translation services, click here.
Other services:
Spanish transcreation
Bilingual editing services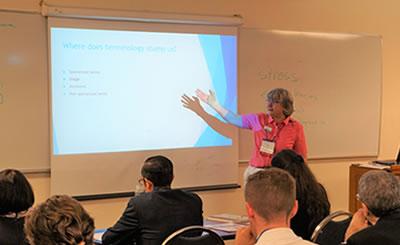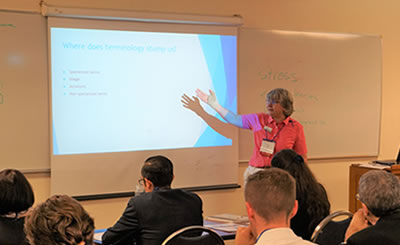 Spanish Translation and Interpreting Certification Trainer
Having passed the most challenging certification exams, Helen Eby provides training for other Spanish translators and interpreters to prepare for certification exams. Click here for information on the course for the translation certification exam.