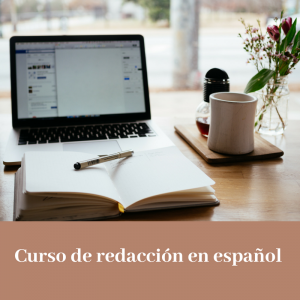 This is a 10 session course based on assigning Spanish writing projects that bring to light realistic communication expectations. All assignments, instructor feedback, class discussion, resources, and interaction are entirely in Spanish. The interaction in Spanish begins with the registration form and the list of topics below…
The combination of assignments and planned presentations provides a strong basis for participants to move forward with improved Spanish writing skills in their future careers.
Where, when, how much?
Day of the week: Thursdays
10 sessions
Thursday evenings, from September 12, 2019 to December 12, 2019
Time: 5:30 to 7:00 pm Pacific time (8:30 to 10:00 pm Eastern)
Cost: $600. ($20 discount for members of professional associations).
Nonrefundable. This course has a maximum class size of 15 students.
Resources and login will be provided to students upon registration confirmation.
Registration form for Fall 2019 session
Optional reference books:
Manual de estilo Chicago Deusto
El buen uso del español, published by RAE/ASALE
The Instructors
Helen Eby, owner of Gaucha Translations, is an ATA-certified translator (Spanish<>English). Helen started out in Argentina, where she graduated as a teacher of English and Spanish for grades 1 to 7. She has always been interested in researching and teaching and has started training programs for medical interpreters in Oregon, an online training program for Spanish translators who are seeking to be certified. Writing skills are essential for translation, but this class is also for those who have other interests.
Many of the concepts that will be taught and much of the perspective of the course can be found in the blog ¡Al rescate del español!
Daniela Guanipa is an ATA-certified translator (English>Spanish), and a certified Court Interpreter (English/Spanish) in the State of Indiana. Ever since completing her bachelor's degree in International Studies in her native country, Venezuela, she has devoted her entire professional life to the art of communicating effectively and writing compelling copy in English, Spanish, and Portuguese.
Her career as a linguist and trainer spans over 20 years and has amounted to a wide and rich professional experience. Daniela is an experienced educator who has taught Spanish at different levels—from beginners to advanced, to native Spanish-speakers—and settings, including private individuals, government and law enforcement agencies, judges, high-level executives, and corporate clients. In 2006 she became a trainer for the Indiana Certification Program, teaching sight translation to certification candidates.
Ms. Guanipa is very active in the Translation and Interpreting (T&I) community and has served on the Board of her local ATA Chapter, the Association of Translators and Interpreters of Florida (ATIF), first as Secretary, and later as Vice-president, ATA's renowned blog for new T&I professionals; a member of the Professional Development Committee of the ATA Spanish Language Division, and a reviewer of its quarterly newsletter, Intercambios.
The instructors are both founding members of the Spanish Editors Association, the first and only association created in the United States to address the needs of editors working for the US-Spanish market. In addition, they are founding members and contributors of The Savvy Newcomer, ATA's blog for newcomers to translation and interpreting.
Technical requirements
Computer with good internet connection (participants will be entering answers on their computers on a regular basis)
Headset (using speakers for audio creates echoes for the other listeners)
Microphone (all participants will be interacting live on their microphones)
Topics covered
This list is subject to change based on the needs of the group. Topics listed in Spanish, with some English explanations.
Cómo relatar una anécdota breve. (How to tell a short story)
Del bosquejo a la presentación: paso a paso. (Moving from an outline to a presentation, step by step)
Elementos de corrección con ejemplos de la tarea entregada. (Editing our work, using examples from submitted homework – ongoing)
¿Cómo hace un escritor para comunicar una idea claramente en un párrafo? (How does a writer communicate an idea clearly in a paragraph?)
Los tipos de palabras y su utilidad en la oración. (Morfología) (Types of words and how they are used in a sentence – Morphology)
Análisis de cada una de las partes de una oración, su función y cómo se relacionan. (Análisis sintáctico) (Syntactic analysis: analyzing each part of the sentence, its function and relationship to each other)
Cómo escribir una oración. ¿Cómo cambian las palabras según su función en una oración específica? Aplicación del análisis morfológico al análisis sintáctico. (How to write a sentence. How do words change based on the job they need to do in a sentence?)
Análisis morfológico – coherencia en la redacción (Morphology applied to a sentence. Consistency in writing.)
Cómo se conectan las oraciones dentro de un párrafo para seguir el hilo. (Connecting sentences in a paragraph.)
Cómo se conectan los párrafos de un texto. (Connecting paragraphs in a text.)
Cómo hacer un resumen. (Summarizing.)
Puntos de vista en la redacción. Distintas formas de abordar un tema según su aplicación: un artículo periodístico, un mensaje de Facebook, un mensaje de correo electrónico, un cartel, una carta de queja, un texto de marketing. (Writing on one topic from  a variety of points of view.)
Cómo escribir instrucciones. Una receta, instrucciones para ejercicios, etc. (Writing instructions.)
Técnicas de investigación de temas con los que no estamos familiarizados. Tarea: redactar un texto sobre un tema novedoso para nosotros. (How to research a new topic.)
Aplicación práctica a la vida laboral. Nuestra función como correctores, como redactores y nuestro trato con el cliente ante encargos complejos independientemente del tamaño. Ejemplos de la vida real de las instructoras. (Practical application to our daily work.)