3rd Annual Interpreters and Translators Conference 2019 OCDE
September 27, 2019

-

September 28, 2019

|

$275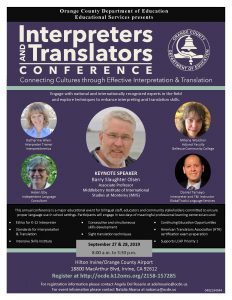 The Orange County Department of Education (OCDE) Language Services is celebrating the 3rd Annual Interpreting and Translators Conference 2019.  This event will recognize individuals from school districts and community in Orange County.
Districts will learn how to create or enhance an Interpretation Unit at their sites.
Interpreters, translators, community liaisons, and bilingual staff will receive powerful tools and best practices at IEP meetings, cultural diversity, technology, and presentations skills.